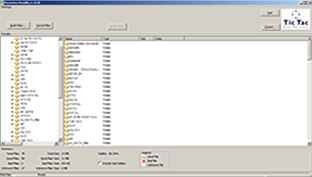 Tic Tac has developed unique software tools for data recovery. These tools identify, rebuild, repair and copy damaged files.
When files are affected by physical damage, files cannot be properly read or written.
Files may also be affected by logical damage as a result of an OS malfunction or malfunction of a software program that causes an error in data writing/reading. Files can also be lost as a result of accidental or intentional erasure.
Tic Tac has developed its own unique data recovery tools:
File Recovery:
Microsoft Office
Microsoft Outlook
Microsoft Outlook Express
Eudora
Lotus
PDF
JPG
GIF
Adobe Photoshop
Adobe Freehand
Adobe Illustrator
Adobe Premiere
3DMAX
Database  Recovery:
EXCHANGE EDB, STM
SHAREPOINT PORTAL
MS SQL
PARADOX
ORACLE
SAP
Israeli Accounting software: Hashavshevet, Michpal and dozens more.