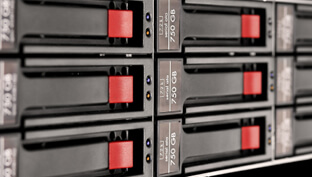 Tic Tac Data Recovery provides server recovery services for all types of servers and operating systems available on the market. Tic Tac offers the highest professional skills and immediate response and resolves critical data loss in organizations, efficiently and effectively.
Our track record includes data recovery from thousands of servers, at a success rate of over 90%.
Tic Tac operates a state-of-the-art one-of-a-kind laboratory, complete with a clean room conforming to the strict CLASS 100 standard, and cutting-edge proprietary equipment developed by our own engineers, to guarantee perfect data recovery results time after time.
RAID Recovery
RAID server recovery is our special expertise. We handle all types of RAID disk arrays including RAID 0, RAID 1, RAID 5 and RAID 6. We also have extensive experience in data recovery from large disk arrays of up to 32 disks.
NAN/SAN Recovery
Recovery of NAN/SAN arrays in large-scale storage systems.

Tape Recovery
Tic Tac recovers data from all types of storage tapes including DLT, LTO, DAT, DDS, AIT, TRAVAN, QIC.
Database Recovery
SQL SERVER, PARDOX, INTERBASE, FOXPRO, DBASE, Israeli bookkeeping and accounting software such as Hashavshevet, Rivhit, Minhal, Michpal, Hishuvit Zahav, Shikukit, Atzma'it, Odkanit, and Financit.
Exchange Recovery
Data recovery from damaged Exchange servers requires a high level of expertise. Tic Tac has successfully recovered data from hundreds of damaged Exchange servers, using our own proprietary tools which we developed on the basis of our extensive experience.