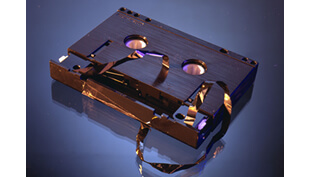 Recovering data from backup tapes entails a unique, complex procedure that is distinct from the procedures used to in data recover from hard disks.
Data recovery from tapes typically occurs in the following events:
Tapes are in good order, yet require set up of an appropriate work environment, including appropriate hardware, OS and a back-up system that is close to original.
Tapes affected by logical damage – Damage of this type occurs, for example, when back-up is not performed correctly, or back-up definitions are not defined correctly, back-up is not completed correctly, the cataloging process is faulty, or data is over-written by new information.
Tapes affected by physical damage – Tape has damaged in the markers, tape is torn, tape is damaged when cassette became entangled in the tape, wear and tear of the magnetic tape assemblies, or in the event of a mechanical malfunction.
We recover data from the following tape types:
DLT III, DLT IV, DLT-1, VS80, VS160 & Super DLT up to 320 GB.
LTO 1, 2 Ultrium tapes up to 400 GB.
4 mm DAT format DDS, DDS-2, DDS-3 & DDS-4 , DDS-5 up to 72 GB.
Exabyte 8mm 112m and 160m tapes & Mammoth 1 (Exabyte 8900), Mammoth 2 up to 150 GB.
Seagate AIT & AIT-2, AIT-3 tapes up to 260 GB.
Travan TR-1, TR-3, TR-4 & TR-5 tapes up to 20 GB.
Iomega Ditto 2 GB QIC tapes.
QIC Mini-Cartridges DC2000-DC2120 40,80,250 MB.
Recovery uses backups performed by:
Microsoft Tape Format (MTF) applications such as NT Backup and Seagate/Veritas BackupExec for Windows NT/2000, Backup Exec for NetWare
System Independent Data Format (SIDF) applications such as Novell's Sbackup and Palindrome's Backup Director
Practically all legacy DOS and Windows backup formats, including Colorado/Cheyenne Backup for Windows, Arcada/Seagate Backup Exec for Windows 95 & 98
Cheyenne/Computer Associates ARCserve for NT & NetWare
Previos/Stac Replica Backup for NT, NetWare
Legato NetWorker (all platforms)
Dantz Retrospect for Macintosh
unix tar, cpio, fbackup, fsdump & ufsdump archives
Compaq/DEC VMS Backup
Intelliguard/Legato Budtools for Unix platforms
Sytron / Seagate / Veritas Sytos & Sytos Plus for DOS, NetWare & OS/2
First Aid – What Should I Do?
Don't do anything! Consult with our laboratory engineers in any case of data loss.
Do not remove the cassette from the tape before consulting with our laboratory engineers.
Record the type of operating system, backup software, software version, and any other information concerning the data that you think may be significant.
Collect all other existing backup tapes – they may contain relevant information.
Please contact us by phone: +972-(0)3-613-1555 or +972-(0)522-877-477 (Emergency – 24 hours).
Use the SOS Emergency Form to send an SMS message to our data recovery expert on call, who will contact you within minutes and help you with your problem. No up-front fee or obligation on your part is required.
To order data recovery services or receive information about our rates, click here. Complete the form to provide us with as much information as possible.
Next, send us your tape in one of the following two ways:
Send your media to our offices at 10 Hata'as Street, Diamond Exchange Compound, Ramat Gan. Our office hours are between 8 am and 6 pm, Sunday through Thursday (directions and map). Expedited service is also available outside office hours.
A UPS / ZIGZAG messenger will pick up your media at no extra cost (in the majority of Israeli locations).