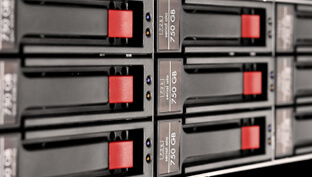 Tic Tac Data Recovery specializes in data recovery from complex RAID arrays that contain up to 32 disks. Tic Tac has recovered data from hundreds of servers of different RAID and controller types.
Due to their logical and physical complexity, recovery of RAID arrays requires unique technology.
To respond to our clients' need to return to work as soon as possible, Tic Tac completes RAID recovery in record time.
Our main services:
RAID 0 recovery
RAID 1 recovery
RAID 5 recovery
Raid 6 recovery
First Aid – What Should I Do Now?
Have you lost data from your RAID array? Can't access your RAID array? Have several hard disks crashed simultaneously? Have you just performed a rebuild?
Shut off the server until receiving further instructions from our Customer Service representative.
Do not put any new disks into the RAID array before sending the array to Tic Tac for testing.
If you performed a rebuild, terminate the operation as soon as possible. If the process has already begun, terminate it in order to mitigate the damage.
Mark the order in which you remove the disks from the server: Number them from top to bottom, and from right to left.
Record everything you remember about the malfunction and the circumstances surrounding the event. Also record details of the data you wish to recover.
Please contact us by phone: +972-(0)3-613-1555 or +972-(0)522-877-477 (Emergency – 24 hours).
Use the SOS Emergency Form to send an SMS message to our data recovery expert on call, who will contact you within minutes and help you with your problem. There is no up-front fee or obligation on your part.
To order data recovery services or receive information about our rates, click here. Complete the form to provide us with as much information as possible.
Next, send us your data medium in one of the following two ways:
Send your media to our offices at 10 Hata'as Street, Diamond Exchange Compound, Ramat Gan. Our office hours are 8 am – 6 pm, Sunday through Thursday (directions and map). Expedited service is also available outside office hours.
A UPS / ZIGZAG messenger will pick up your medium at no extra cost (in the majority of Israeli locations).